Spare Tyre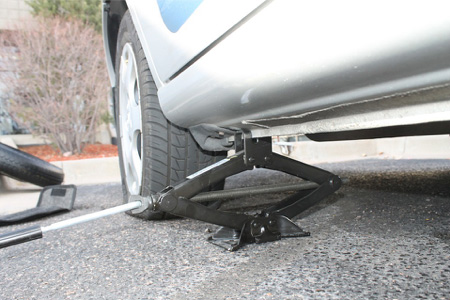 Do I Have a Spare Tyre?
Spare tyres are not a legal requirement so not all vehicles will have one. Many vehicle manufacturers are now choosing to supply tyre repair kits or fitting models with run flat tyres instead to save weight and space.
If your vehicle is fitted with a spare tyre you will find it underneath the floor panel in your boot. This is usually where your tyre repair equipment will be stored, so it is worth checking to see how you are equipped to deal with tyre damage as a precaution.
Caring for your Spare Tyre
Like all your other tyres, you need to check that your spare tyre is legal and roadworthy in case you need to use it. Carrying out these quick and easy checks on your spare tyre will ensure it's ready to go should you ever need to use it:
Tyre Tread - Check your spare tyre has a sufficient amount of tyre tread which you can do easily by placing a 20 pence coin in to your tyre grooves and ensuring that the outer band of the coin, which measures roughly 3mm, is not visible. If you can see this band, your spare tyre may be illegal and you will need to replace it.
Tyre Condition - Inspect your spare tyre for signs of tyre damage before you fit it to your vehicle. As with checking the tread depth of your spare tyre, this check will only need to be carried out once. Check the tyre for any signs of tears, cuts or lumps. If you carry your spare tyre for a long time without using it, you should also check it regularly for any signs of age, such as cracks or weakened rubber.
Tyre Pressure - Check the pressure of your spare tyre as regularly as you carry out tyre pressure checks to your other tyres. The Tyre Group would recommend doing this every three weeks as it is vital to your safety when driving. Ensure that all tyre pressures meet the pressure recommended in your vehicle handbook and adjust them if necessary.
What to Carry with your Spare Tyre
If you do carry a spare tyre, you must ensure that you carry the correct equipment to change your tyre if necessary. If you already have the correct tools, they will probably be stored in the boot with your spare tyre.
You should ensure that you carry the following:
A tyre jack
A locking wheel nut key
Wheel wedges
A pair of gloves*
A plastic sheet*
A torch*
*These items are recommended but not a necessity.
Using your Spare Tyre
If you do need to replace a tyre, it is important that you know how to do so. Here at The Tyre Group we would recommend familiarising yourself with your vehicle handbook and taking a look at our step by step guide to ensure that you feel confident changing a tyre. If you require more guidance, contact your local Tyre Group branch where one of our tyre specialists will be able to provide more information.
Some vehicles use a space saver spare tyre, which is a thinner and lighter tyre designed to save space and weight. These are not intended to be driven for longer than 50-70 miles and are usually restricted to a certain speed which will be displayed on a sticker attached to the tyre. You should abide to the recommended speed and only use a space saver tyre to get home or to your local tyre specialists.
Next Steps
After fitting your spare tyre to your vehicle, you should visit your local tyre specialists to get your new tyre and wheel components checked over by a professional.
If your vehicle does not carry a spare tyre but you would like to invest in one, you can choose from a wide range of premium manufacturer or quality budget tyres online from The Tyre Group. Alternatively, you could visit your local Tyre Group branch for assistance choosing a spare tyre.