Winter Driving Advice
Winter conditions can be hazardous on the road so it is important that you prepare your vehicle for whatever lies ahead to make sure that you stay safe.
Preparing for Winter Conditions
Tyre Tread Depth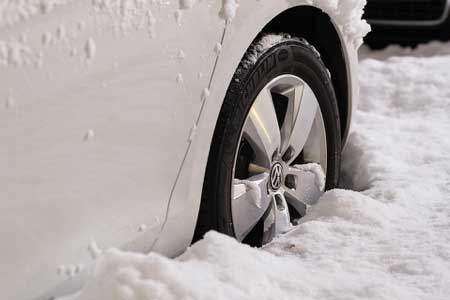 Checking your tyre tread is one of the most important jobs you have as a driver, and this becomes more important during winter. Your tyre tread provides your vehicle with grip and connects you to the surface of the road. If you do not have sufficient levels of tread, you are more at risk of losing contact with the road when driving in ice, snow or water and this may result in skidding or aquaplaning.
The legal minimum for tyre tread depth is 1.6mm and if you are caught driving on tyres with tread that is lower than this you could receive penalty points and a huge fine. In winter, when you rely on your tyres for safety, The Tyre Group would recommend replacing your tyres when tread drops to 3mm, as they no longer provide the grip that winter conditions demand. Learn how to check your tyre tread depth.
Tyre Pressure
Check that your tyres are inflated to the correct tyre pressures, as recommended by your vehicle handbook, so that they are able to retain grip and stability on the road. You may have heard that in winter you should lower your tyre pressure, however, this is not true and we strongly advise against doing so, unless instructed by your vehicle handbook. Under-inflating your tyres will not improve your grip and it may negatively affect vehicle handling. Find out more about tyre pressure.
Windscreen
Before cold winter temperatures set in, you should ensure that your windscreen has no signs of damage and if it does, we would advise having it fixed by a specialist as cold weather can cause your windscreen to crack. You should also ensure that your windscreen wipers are fit for winter by inspecting them for tears and cracks and having them replaced if any damage is found.
Ensure that your screen wash is topped up with antifreeze mixed with water to remove ice and snow. The correct concentration for your vehicle should be specified in your vehicle handbook.
Other Checks to Make:
Ensure that all lights are working correctly
Have your battery checked if it is over 3 years old to ensure it will cope during winter
Check that your brakes work effectively
Ensure that all engine fluids sit within the minimum and maximum lines displayed on their containers
Driving in Snow and Ice
Check Ahead
Check the weather forecast before traveling in winter and put off any non-essential journeys if snow, ice or floods have been forecast
During winter, especially around the festive season, roads can become congested, so we would recommend following travel updates to ensure that you don't get stuck in traffic.
Before any journey, ensure that you have more than enough fuel in your tank to keep your engine running in case you are forced to wait in traffic or make a long detour due to weather or traffic.
Slow Down
As soon as temperatures drop to 4°C, regardless of whether or not you can see snow and ice on the road, you should slow down and increase your distance from the vehicle in front of you. At this temperature, roads may be frozen and you could be susceptible to skidding.
Ensure that all manoeuvres are gentle and avoid any sudden movements or rapid braking. If you do find yourself skidding, you should take your foot off the accelerator and brake pedals and steer gently in to the skid. As soon as you feel your tyres regain traction with the road, steer the vehicle gently in the direction of travel.
Stuck in Snow
In the event that your vehicle gets stuck in snow you should move your wheels to push snow out of their way. If this does not work, try digging the snow away from the wheels using a shovel if you have one to hand. If your tyres are still struggling to make contact with the road, you could try pouring gravel or sand in front of them or positioning a sack underneath them.
For further guidance on driving in winter contact your local Tyre Group branch.
Alternatively, if you are concerned that your tyres will not be sufficient for winter driving, you can buy new tyres online or visit your local branch for assistance selecting new tyres for your vehicle.
Interested in fitting winter tyres to your vehicle? Simply contact your local Tyre Group branch for further information. Alternatively, you can call 01905 731905 or email websales@thetyregroup.co.uk.