What makes Tyres Illegal?
19th September 2014
If you drive on damaged or worn tyres, you run the risk of being fined up to £2,500 and gaining 3 points on your licence, per tyre. You can also potentially invalidate your insurance policy and you run the risk of endangering lives due to lack of care and attention to your vehicle. Find a simple list below of what contributes to an illegal tyre...
Fit for purpose
You will find the suitable tyre sizes for your car in your vehicle manual. When having new tyres fitted, they must be compatible with the types of tyres fitted to the other wheels.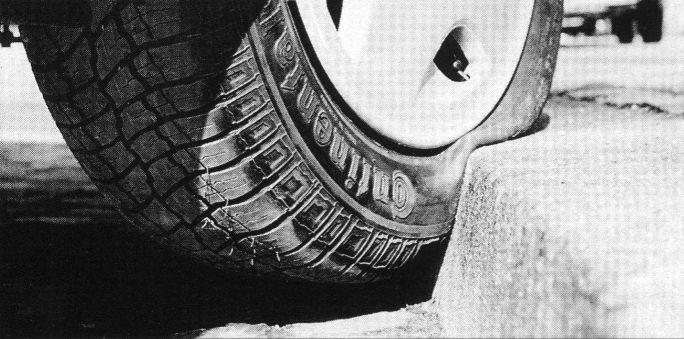 There shouldn't be any visible lumps or bulges as a result of structural damage to your tyres either and they should be free from tears across the sectional width of the tyre. None of the ply or cord should be exposed as this indicates severe wear. Tyres can become damaged without you even noticing. When driving over obstacles, approach slowly and as straight on as possible.
If you have any queries regarding the state of your tyres, or you believe your tyres are damaged and may need attention, find your nearest Malvern Tyres Group centre and give us a call or drop in at a time that suits you for a free tyre check.
Inflation
Tyres should always be inflated according to the manufacturer's specifications; these can be found in your vehicle manual. Ensuring your tyres are kept at the correct pressure will help to keep running costs to an absolute minimum.

Tyre pressure will depend on the load of the car as well as sometimes differing between the front and rear tyres. Incorrect tyre pressure will cause uneven wear on your tyres and shorten the tyre lifespan. Low tyre pressure will also increase fuel consumption and can also contribute to loss of vehicle control. Pressure that is too high may cause your tyre to 'blow out' as well and contributing to reduced braking stability and cornering. Check your tyre pressure once every two weeks and adjust as necessary. Also remember to only check the pressure when the tyres are cold – this can be tyres that have not been used in the previous 2 hours to checking, or have covered no more than 2 miles.
If you find your tyre pressure reduces drastically on a regular basis, or you have concerns about your tyre pressure, search for your nearest Malvern Tyres Group centre and have your tyres checked by one of our professionals. It may be that you have a puncture or damage to your tyre you might not have noticed. We have a wide range of tyres available to buy online too.
Tread Depth
The tread depth of your tyres must not fall below the legal minimum. The tread is the part of the tyre in contact with the road and for this reason it is vital to ensure tread is adequate.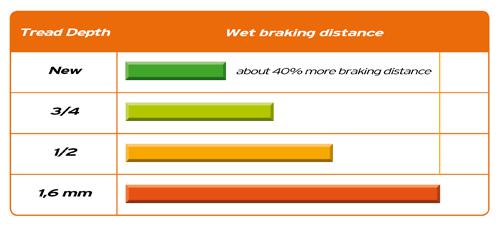 A new car tyre begins life with approximately 8mm of tread depth. The legal limit for car tyre tread depth is 1.6mm so you should consider changing your tyres at around 2mm. The helpful table shown here from Hankook Tires highlights the change in wet braking distance as the tread on a car tyre decreases. As a result of worn tread, the response from your tyres significantly increases putting yourself and other road users in danger.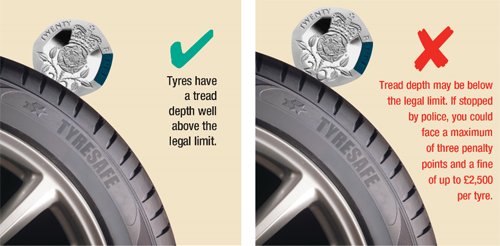 Some tyres have tread depth indicators which are helpful in identifying when tread is running low. These are raised blocks in between the grooves in the tyre tread and identify when a tyre has reached the legal tread depth. If your tyres don't have indicators, the simplest way to check the tread depth on your tyres is to use the 20p test. Place a 20 pence piece into the grooves on the inner ¾ of the tyre, the part that is in contact with the road. If the rim of the 20p is visible, it's time to have your tyres checked by a professional.
For more helpful information and tips on Tyre Safety, visit our helpful page here or give your nearest Malvern Tyres Group Centre a call today.
Find your nearest Malvern Tyres Group branch and have your tyres checked by one of our expert tyre fitters. If your tread depth has neared or is below the legal limit, the Malvern Tyres Group offer a fantastic range of tyres for all budgets to help you get back on the road in no time. Search and buy tyres online and book at a centre and time convenient for you.
BACK TO ARTICLES