Tyre of the Month January - Goodyear UltraGrip 8
20th January 2016
As winter conditions have started to hit the UK this month, we have decided to crown a superior winter tyre, adept at dealing with tough conditions, as our tyre of the month this January. With excellent handling in snowy conditions and extra grip on icy roads, the Goodyear UltraGrip 8 has topped our list.
Goodyear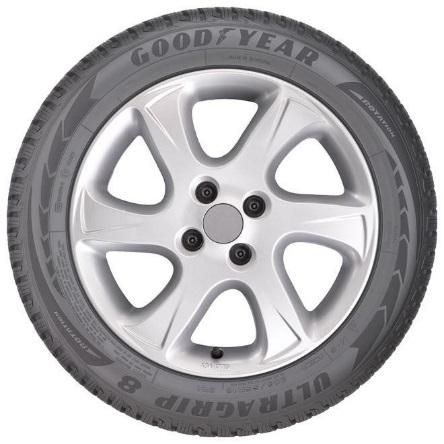 With a successful history spanning over 116 years, Goodyear have become one of the most recognisable names when it comes to tyres. In 1916, Goodyear became the largest tyre company in the world and was able to trademark the slogan 'more people ride on Goodyear tyres than any other kind.' Not a company to rest on their achievements, Goodyear continued to innovate and have since developed brilliant new tyre technologies which have had a huge impact on driving safety and performance.
Improved Handling
The Goodyear UltraGrip 8 offers improved handling in difficult winter conditions such as snow, ice and slush. This is because of innovative Goodyear 3D BIS Technology which is used to mould the tyre into a shape optimal for winter driving. The shape of the Goodyear UltraGrip 8 means that more rubber is in contact with the road and this increases driver control in icy conditions and contributes to its superior handling capabilities. Its mixture of siping technology, including standard sipes, technologically enhanced sipes and hybrid sipes also provides the Goodyear UltraGrip 8 with improved handling on snow covered roads.
Enhanced Grip
Constructed with a specialist winter tread compound, this tyre offers excellent levels of grip, even at freezing temperatures. This is because the compound works to keep the tyre supple when the temperature drops below 7°c, ensuring the tyre achieves maximum contact with the road. Furthermore, the Goodyear UltraGrip 8 has been designed with an interlocking block system that works to further enhance grip and deliver short braking distances on snow.
Resistance to Aquaplaning
This tyre also offers increased resistance when it comes to aquaplaning due to its innovative double V-groove. This is constructed of one groove which offers an enhanced grip on snow and one which rapidly evacuates water. This ensures that the Goodyear UltraGrip 8 can offer superior levels of control on wet, slushy or thawing roads.
Further Benefits
One metre shorter braking distance on snow compared to leading competitor*
Long wearing compound to extend tyre life
16% better resistance to aquaplaning on curved roads compared to leading competitors*
Enhanced grip in unpredictable winter conditions
Buy Goodyear UltraGrip 8 tyres online from The Malvern Tyres Group at competitive prices today. Simply purchase and arrange a fitting at your local Malvern Tyres Group branch at a time to suit you.
Alternatively, you can take a look at all the Goodyear tyres stocked at The Malvern Tyres Group.
*https://www.goodyear.eu/en_gb/consumer/tires/ultragrip_8.UG8.html
BACK TO ARTICLES