Tyre of the Month December – Firestone Winterhawk 3
9th December 2015
This December we have decided to name the Firestone Winterhawk 3 as our tyre of the month. This is due to its capacity for high performance and enhanced safety in harsh winter weather conditions.
Firestone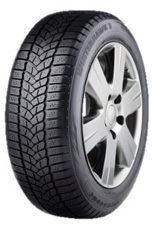 Founded in Ohio, United States in 1900, Firestone were pioneers in the mass production of tyres. From humble beginnings creating and supplying tyres for wagons and buggies, the company were then selected as the original equipment supplier of Ford Motor Company automobiles in 1906 and then in 1926 they opened one of the world's biggest rubber plantations. Their success continued to rocket and in 1988 the company merged with Bridgestone. Today, Firestone are one of the largest tyre manufacturers in the world and are widely renowned for their commitment to performance and safety.
Reliable Winter Performance
Constructed using a silica reinforced compound, the Firestone Winterhawk 3 is able to maintain contact with a wide patch of the surface of the road in cold temperatures. This means that its superior gripping capabilities are retained on everything from loose snow to icy surfaces, offering a performance that you can depend upon. This superior winter grip is further enhanced by Firestone's innovative 'Dynamic Footprint Analysis' technology, which ensures that the tyre retains maximum stiffness enabling constant grip.
Increased Resistance to Aquaplaning
The Firestone Winterhawk 3 offers a safer and steadier performance in rain, slush and thawing conditions thanks to an innovative tread pattern which is highly resistant to aquaplaning. This is due to its high volume lugs and consistent tread depth level which work together to channel water away from the central area of the tyre. This allows for water and other winter dangers such as slush and mud to be evacuated from the tyre efficiently.
Independent Awards
A superior balance between performance, safety and reliability has been struck in the Firestone Winterhawk 3 and this is testified by the amount of independent awards that the tyre has been awarded. ADAC, Germany's leading automobile organisation, labelled the tyre good in 2013 and further commented that it is 'very well balanced, exceptionally good on both dry and wet roads, good ice performance*.'
* http://www.bridgestone.eu/corporate/press-releases/2013/09/flagship-firestone-winterhawk-3-ranked-third-in-adac-winter-tyre-test/
Further Benefits
Optimum traction on snow and ice
Maximum wear resistance
Outstanding handling performance
Buy Firestone Winterhawk 3 tyres online from The Malvern Tyres Group at competitive prices today. Simply purchase and arrange a fitting at your local Malvern Tyres Group branch at a time to suit you.
Alternatively, you can take a look at all the Firestone tyres stocked at The Malvern Tyres Group here.
BACK TO ARTICLES