Tyre of the Month August - Goodyear Vector 4Seasons
7th August 2015
For August, The Malvern Tyres Group have chosen the Goodyear Vector 4Seasons as their tyre of the month.
Goodyear
Established in 1898, Goodyear have always been a company that dreams big and pushes forward. New thinking is always at the core of their work which is why they have established a reputation for innovative, quality products. Every Goodyear tyre has more than one hundred years of safety-driven innovation behind it, giving you confidence that your tyres are safe, high quality and can deliver an exceptional driving performance.
Exceptional Performance all year round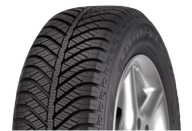 The Goodyear Vector 4Seasons is a superior all season tyre which offers excellent performance all year round. Designed using Goodyear's innovative Weather Reactive Technology, the Vector 4Seasons is able to adjust to seasonal changes. This is further enhanced by unique SmartTRED design which features specific tread zones, enabling the tyre to adapt to road conditions. Other benefits of the Goodyear Vector 4Seasons include:
Traction for all road conditions
Superior handling
Improved control on wet and dry roads
Environmentally friendly
Traction
Expect better road traction with the Goodyear Vector 4Seasons in all weather conditions. Thanks to high-density 3D waffle blades, this tyre offers superior ice and snow traction. The Vector 4Seasons has been certified with the snowflake symbol, so you can be confident that it can cope with tough conditions. Constructed with an all-weather compound which enables the tyre to adapt to summer or winter conditions, the Vector 4Seasons delievers high performance all year round.
Control
The Goodyear Vector 4Seasons offers exceptional control and handling in both wet and dry conditions, including rain and snow. Due to the use of an innovative tread pattern, this tyre is able to rapidly evacuate water and therefore offers better aquaplaning resistance on wet roads. The Vector 4Seasons also delivers 11% shorter braking distances on ice* so your confidence will remain intact as temperatures drop. Dry handling is reliable, with stiff tread blocks that offer extra stability when steering and cornering.
*http://www.goodyear.eu/uk_en/tires/passenger/vector-4seasons/?from=browse
Awards and Feedback
Auto Bild, Germany's number one automotive publication, tested the Goodyear Vector 4Season during 2014 and confirmed the premium safety, durability and performance of the all-season tyre. Labelled 'exemplary' by the prestigious magazine, the Goodyear Vector 4Seasons received the following feedback: 'Convincing all season tyre with well-balanced, safe driving performances and good steering response at all weather conditions.'
Buy Goodyear Vector 4Seasons tyres from The Malvern Tyres Group at competitive prices today. Buy online and arrange a fitting at your local Malvern Tyres Group branch at a time to suit you.
For more information about all Goodyear Tyres we stock at The Malvern Tyres Group, visit our Goodyear Manufacturer page here.
BACK TO ARTICLES