Tyre of the month April - Bridgestone Turanza T001
14th April 2015
As the days grow ever longer and the weather warms, April seems as good a time as ever to choose a summer tyre from Bridgestone as our tyre manufacturer of the month...
In harmony with life...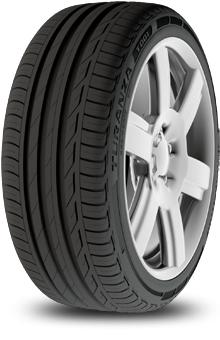 "Follow the road, follow your heart, and rediscover the thrill of the journey with the all new Bridgestone Turanza T001"
http://www.turanza.eu/en
A flagship tyre of the Bridgestone touring range, the T001 offers an excellent harmony between safety, comfort, durability and environmental performance - representing the result of Bridgestone's latest tyre technology.
The tyre features optimum grip and stability for reliable braking in wet conditions.
Giving outstanding high-speed stability, touring performance is unrivalled, giving drivers a smooth and comfortable ride.
The latest Bridgestone technology means new levels of efficiency, as the tyre combines low rolling resistance with minimal pattern noise.
Tyre Technology
Safety and Control
Wide water evacuation grooves for the highest levels of safety in wet.
Lateral and longitudinal high stiffness shoulder blocks for maximum braking force and excellent handling performance.
Newly designed noise reduction groove for lower pattern noise emission.
Efficient Motoring
NanoPro-Tech™ controls the interaction between polymers, filler material and other rubber chemicals used in the manufacture of a tyre. With the adoption of "NanoPro-Tech" a new polymer is created that minimises friction heat between carbon molecules and reduces a tyre's rolling resistance.
Praise from ADAC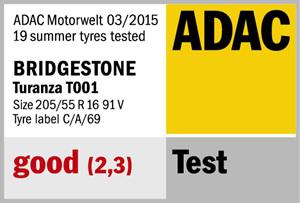 The AllgemeinerDeutscherAutomobil-Club (ADAC) tested the T001 during March 2015 and confirmed the premium safety, reliability and performance of the Turanza T001. Wet braking performance, high-speed stability, dynamic handling and precision response both on wet and dry surfaces, were all features identified as key features of the T001.
Of the 33 premium patterns tested, the Turanza T001 was one of only a handful to receive the highly sought-after rating of "very recommendable" by the German automobile club.
Jake Rønsholt, Managing Director, Consumer Business Unit at Bridgestone Europe said:
"These latest independent Summer tyre test results are confirmation of our highly successful research and development programme at Bridgestone. All our products are designed to offer drivers a safe, comfortable and efficient ride over a long lifespan."
Buy Turanza T001 tyres from The Malvern Tyres Group at competitive prices today. Buy online and arrange fitting at your nearest fitting centre at a time to suit you.
BACK TO ARTICLES