The Dangers of Part Worn Tyres
24th March 2015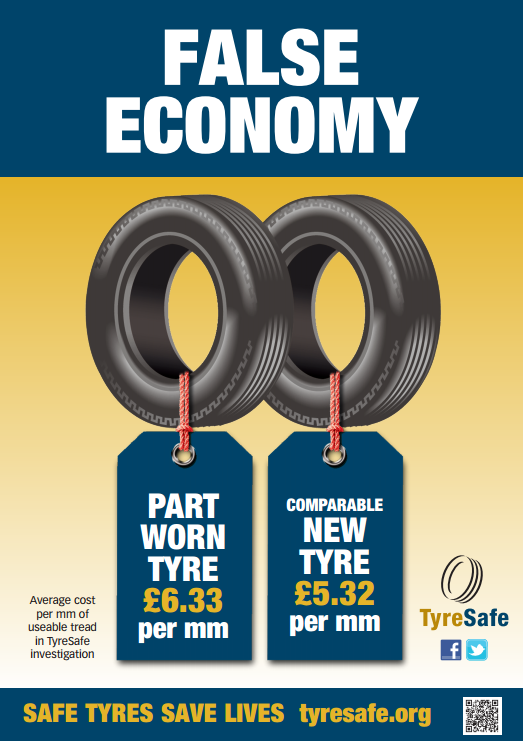 As the nation continues to search for ways to save money, it's becoming increasingly common for drivers to purchase part worn tyres over new tyres. Most consumers are tempted to try and save a bit of money by buying part worn tyres, but is it really worth the risk? And what are the risks? Second-hand clothes might ooze charm, but second-hand tyres certainly don't!
It is illegal for garages in the UK to sell second-hand, or part worn tyres unless they are safe and properly marked. Research undertaken by industry experts TyreSafe and Auto Express, discovered that the majority of part worn tyre inspected during their research were nowhere near legal. A worrying fact for those who have purchased part worn tyres in the past!
There are laws in place to protect consumers and that govern such sales. The laws in place under the Motor Vehicle Tyres (Safety) Regulations 1994, state that a part worn tyre cannot be sold if:
It has cuts longer than 25mm, on 10% of the section width of the tyre, which are deep enough to reach the ply or cord.
There are lumps, bulges or tears on the tyre.
There is evidence of penetration damage that has not been repaired.
ny internal ply or cord has been exposed.
Part worn tyres must also be marked properly: They must show all the original markings for their type and design, including speed rating and load index. The tyre must also be labelled as part worn, and this must be in writing at least 4mm high, permanent and legible.
In the majority of cases, consumers actually have no idea if the part worn tyres they are buying, are legal or not. The chance of internal and underlying damage to a used tyre is incredibly high so by purchasing a part worn tyre, you are really gambling with the safety of your car and your passengers. Part worn tyre retailers have premises everywhere - on busy high streets and their products are plastered all over the internet. So consumers wouldn?t be blamed for thinking that part worn tyres must be safe to buy and fit to their family car.
During the professional research undertaken by TyreSafe, Independent tyre expert Ted Foreman highlighted:
?In many cases, these tyres look great. They have loads of tread and could fool you into thinking they?re a bargain. But when you buy them, you inherit their dodgy history ? every time they ran up a kerb, every accident, every time the owner drove on them under-inflated.?
But it's not only safety that is put at risk with the purchase of part worn tyres. The research from TyreSafe shows that despite consumer belief, the cost per tread is much cheaper on a new tyre than a part worn tyre. So despite saving a few pounds in the short term, part worn tyres cost much more over time as they have to be replaced much sooner.
There's a lot to consider when purchasing a new tyre, but don?t let it be the toss-up between a new or a part worn tyre. The Malvern Tyres Groups stock a huge range of new tyres for all kinds of vehicle, with brands to suit all budgets available for fitting at centres throughout the UK.
Search for and buy tyres online now, and arrange fitting at your local Malvern Tyres fitting centre.
BACK TO ARTICLES