Driving....Rain!?
23rd December 2014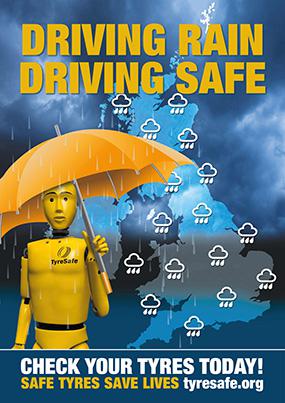 With Christmas approaching fast, we are yet to experience a long stretch of freezing temperatures this winter. A white Christmas is look less likely by the day. Chances are Jack Frost won't make much of an appearance and we'll see another year go by with very little in the way of snow.
That doesn't mean we get off lightly when it comes to driving conditions. Winter of 2013 was the wettest on record, which has led industry experts TyreSafe to run multiple campaigns on driving through that 'Driving Rain'. We might think wet weather as the norm for the UK, but the number of accidents due to poor visibility and aquaplaning, can be reduced simply by taking more care and looking after your car correctly.
Here are some tips from TyreSafe to keep you and your car safe this wet winter...
TREAD DEPTH
The tread pattern grooves on your car help to evacuate the water from between the contact patch of your tyre and the road. This means your tyres can grip the road properly. In very wet conditions a tyre with a good amount of tread can remove enough water from beneath your tyres to fill a bucket in about 7 seconds. Without efficient tread you face a high risk of aquaplaning. This is where the water cannot be removed from the area between the tyre and the road and so the tyre loses traction and the driver loses control!
Remember to check your tyres' tread depth regularly. The legal limit is 1.6mm across the central ¾ of the tyre tread, but really you should have your tyres changed at about 3mm especially when driving in very wet conditions.
Take a look at this helpful video from TyreSafe – the comparison between tread depth performance in wet conditions is incredible.
DRIVING IN HEAVY RAIN AND FLOODING
If you do have to venture out in heavy rain or risk driving through floods, make sure you plan your journey in good time and in advance. Try to avoid areas that may be flooded and make sure you choose the most sensible route, even if it takes you more time.
Make sure you leave plenty of space between you and the car in front. The 2 second rule is golden.
You should use dipped headlights in the rain during the day time so that other drivers can see you. Heavy rain in daylight hours can impair vision drastically. Remember not to use fog lights as they can mask your brake lights and even daze drivers behind you.
Don't drive through large bodies of standing water. You never know what lies beneath. Find another route and avoid the risk. Also avoid driving too fast through large puddles. You increase the chance of aquaplaning, regardless of your tread depth. If you do feel like you have lost control, gain control again by easing off the accelerator to reduce speed.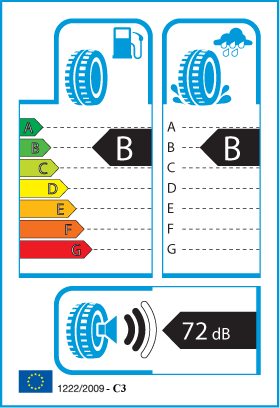 If you're in need of new tyres this winter, search through our huge selection of budget to premium tyre brands here and buy your tyres online quickly and securely. You can even check out the EU tyre label associated to each tyre to find a tyre with a great 'Wet Grip' rating to help you through the rainy season. You can order your new tyres and arrange to have them fitted at your nearest Malvern Tyres Group centre, at a time convenient to you.
BACK TO ARTICLES