Uniroyal RainSport 3
RainSport 3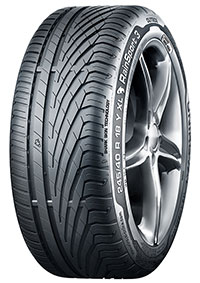 The Rainsport 3 sports Uniroyal's innovative Shark Skin Technology to help with the suppression of water turbulence on the groove surface.
This ensures that water is channelled more quickly out of the longitudinal grooves included in the tread design. The flow-optimised pattern structure enhances fast water displacement meaning greater protection against aquaplaning.
Its flow-optimised asymmetrical pattern is non-directional but combines the advantages of asymmetrical and directional concepts in tread design.
High protection against aquaplaning
Short braking distances
High grip when cornering
Quiet interior noise throughout the tyre's lifetime
Buy Uniroyal RainSport 3 tyres online
Looking for a different tyre?
Looking for a different tyre brand? At The Tyre Group we stock all major tyre brands all of which are available to buy online for fitment at any one of our 41 branches throughout the Midlands, South West England and South Wales.