Goodyear Wrangler DuraTrac
Wrangler DuraTrac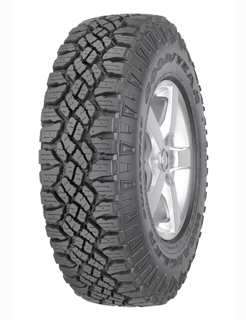 The versatile 4X4 tyre for off-road enthusiasts
This tyre features TractiveGroove Technology which delivers enhanced traction on mud and snow. The Wrangler DuraTrac has the Mountain Snowflake symbol for denoting winter use. It gives drivers a quiet and stable ride and proves that even rugged 4X4s can offer relaxing journeys with a block design that reduces road noise.
Enhanced traction for dirt and gravel is evident as the Wrangler DuraTrac features self-cleaning shoulder blocks that rapidly evacuate gravel, dirt and mud as you move. Also this tyre keeps wheels in good condition, thanks to rim protectors that help prevent accidental curb damage.
Buy Goodyear Wrangler DuraTrac tyres online
Looking for a different tyre?
Looking for a different tyre brand? At The Tyre Group we stock all major tyre brands all of which are available to buy online for fitment at any one of our 41 branches throughout the Midlands, South West England and South Wales.