Goodyear UltraGrip 8 Performance
UltraGrip 8 Performance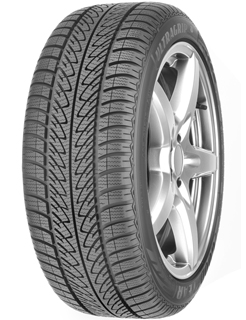 The UltraGrip 8 Performance provides superior grip, improved traction and braking on snow, thanks to the tyres unique design. The saw-shaped central rib of the tyre tread works like a snowplough, grabbing onto surface snow for extra traction. The silica tread compound maintains good grip at low temperatures. pecial hydrodynamic tread grooves quickly channel water away from the tire surface, helping you keep control on wet or slushy roads. The tyres light-weight design reduces the rolling resistance of the tyre therefore lowering your fuel consumption and CO2 emissions.
Confident handling on snow
Excellent performance on ice
High aquaplaning resistance
Fuel efficient design
Buy Goodyear UltraGrip 8 Performance tyres online
Looking for a different tyre?
Looking for a different tyre brand? At The Tyre Group we stock all major tyre brands all of which are available to buy online for fitment at any one of our 41 branches throughout the Midlands, South West England and South Wales.