Firestone ATX
ATX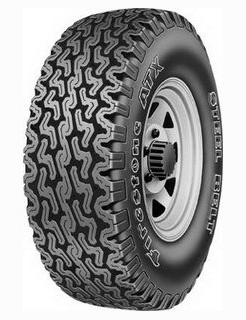 This tyre features a patterned tread which rolls over looses surfaces with ease. It doesn't lose any of its powerful traction or mobility thanks to its exceptional design. Its radial construction is steel belt protected, making this tyre tough and long lasting. When used on-road this tyre is smooth and silent and provides excellent grip.
Extra wide and deep tread
Shoulder voids for longer tyre life
Deep rigid tread blocks
Maximum road contact patch for improved traction and positive handling
Prevention of sidewall damage for a longer tyre life
Buy Firestone ATX tyres online
Looking for a different tyre?
Looking for a different tyre brand? At The Tyre Group we stock all major tyre brands all of which are available to buy online for fitment at any one of our 41 branches throughout the Midlands, South West England and South Wales.