Dunlop SP WinterSport 4D
SP WinterSport 4D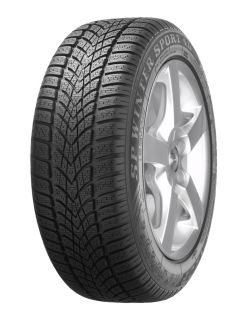 Exceptional performance on winter roads
The SP Winter Sport 4D provides exceptional winter handling and braking ability for high performance cars. Combining a unique tread design with high grip materials, it is designed to deliver optimal control on snow, ice, wet and dry surfaces.
Enhanced snow and ice traction
The unique tread design puts a high number of biting edges in contact with the road, giving you enhanced traction on snow and ice. Deep snow notches grab onto the surface, adding extra grip when accelerating, braking and hill climbing.
Control and grip in wet conditions
For days when roads are wet or thawing, the SP Winter Sport 4D features directional grooves designed to evacuate water quickly and prevent aquaplaning. The high grip compound is optimised to deliver shorter braking distances on wet roads.
Fuel efficient design
With its lightweight construction and materials, the SP Winter Sport 4D requires less energy to roll – which means lower fuel costs and CO2 emissions from your journeys.
Buy Dunlop SP WinterSport 4D tyres online
Looking for a different tyre?
Looking for a different tyre brand? At The Tyre Group we stock all major tyre brands all of which are available to buy online for fitment at any one of our 41 branches throughout the Midlands, South West England and South Wales.