Continental Cross Contact LX2
Cross Contact LX2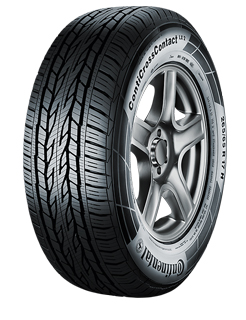 With the ability to offer safety in both on road and light off road conditions, the Conti Cross Contact LX2 is the perfect tyre for the adventurous. Its high pattern stiffness enables the tyre to give great handling capabilities. The Conti Cross Contact LX2 has been designed with a unique tread pattern featuring a high volume of sipes. Thanks to this, it is able to offer increased levels of grip and outstanding traction, particularly on light off road surfaces. Furthermore, the Conti Cross Contact LX2 gives a high level of driving comfort thanks to a continuously closed shoulder pattern which dramatically reduces exterior noise emissions.
Great handling properties
Outstanding levels of grip
Short braking distances
High levels of driving comfort
Buy Continental Cross Contact LX2 tyres online
Looking for a different tyre?
Looking for a different tyre brand? At The Tyre Group we stock all major tyre brands all of which are available to buy online for fitment at any one of our 41 branches throughout the Midlands, South West England and South Wales.