Bridgestone Turanza ER300
Turanza ER300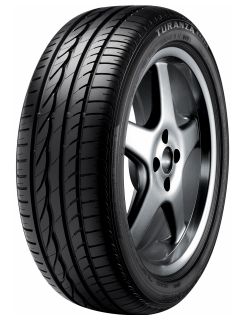 The Turanza ER300 is available in standard, Run Flat and Ecopia models. This tyre makes the longest of journeys much more enjoyable with the perfect balance between performance, stability and sheer driving pleasure. The tyres state-of-the-art tread technology delivers amazing stability and steering response letting you power safely through some of the harshest conditions. This tyre allows you to enjoy superior tyre performance without a massive effect on the environment. Bridgestone tyres carrying the Ecopia mark are designed to minimize rolling resistance for excellent fuel economy and less CO2 emissions.
Advanced tread pattern, optimized for smooth, quiet and efficient performance
Winding groove design for rapid water evacuation and superior traction in wet conditions
Silica-reinforced construction for superior handling and fuel economy
Sleek, stylish, contemporary design
Buy Bridgestone Turanza ER300 tyres online
Looking for a different tyre?
Looking for a different tyre brand? At The Tyre Group we stock all major tyre brands all of which are available to buy online for fitment at any one of our 41 branches throughout the Midlands, South West England and South Wales.