BFGoodrich All Terrain T/A KM2
All Terrain T/A KM2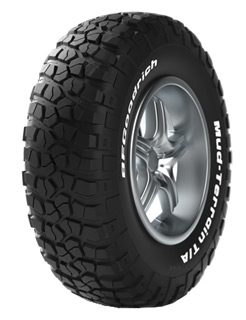 The KM2 has been specifically designed to resist cuts and chips that can be caused by sharp rocks and obstacles when driving off the beaten track. The aggressive sidewall lugs featured on the tyre, deliver strong bite, particularly when the tyre is used at low pressures. These enable the tyre to grip all surfaces, be they smooth or rough. The thick rubber used to build the sidewalls, helps to protect the tyre against dangers encountered off-road.
Weakness in a tyre's sidewall, especially on a 4x4 tyre, can very quickly put a dampener on off-road activities. The oversized sidewall cords featured on the KM2 give the casing the protection it needs for punishing off-road use.
Buy BFGoodrich All Terrain T/A KM2 tyres online
Looking for a different tyre?
Looking for a different tyre brand? At The Tyre Group we stock all major tyre brands all of which are available to buy online for fitment at any one of our 41 branches throughout the Midlands, South West England and South Wales.