Tyre of the Month February – ContiSportContact 5
16th February 2016
Due to its excellent handling properties, shorter braking distances and optimum safety features, the Malvern Tyres Group have named the superior ContiSportContact 5 as our tyre of the month this February. Designed as a predecessor from the ContiSportContact 3, this tyre is ideal for high performance cars and 4x4s.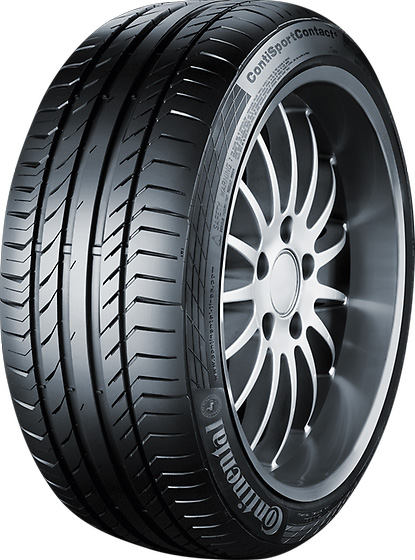 Founded in 1871, Continental is renowned as one of the most well-trusted tyre manufacturers in the world. Famous for their commitment to safety, without compromising performance, it is unsurprising that Continental tyres are now produced in 53 countries across the world.
Shorter Braking Distances
The ContiSportContact 5 has been optimally designed to offer reduced braking distances in wet and dry conditions. This is due to the Black Chilli compound unique to Continental which is constructed using short-chain polymers. This means that the compound can provide a high frequency when braking leading to the optimal absorption of braking forces. This results in shorter braking distances and provides enhanced comfort whilst braking.
Excellent Safety
Continental are known throughout the world for their dedication to road safety, so it is unsurprising that the ContiSportContact 5 has been developed to offer excellent levels of driving safety. Thanks to the macro-block design of the outer shoulder of the tyre, the ContiSportContact 5 provides a larger contact area and this helps the tyre to optimally adapt to the surface of the road. Due to this contact, grip and cornering capabilities are enhanced, resulting in a safer driving experience without sacrificing performance.
Enhanced Value
Thanks to long-chain polymers used in the compound of the tyre, the ContiSportContact 5 can offer enhanced value. This is because absorbed energy is released more efficiently, which works to reduce rolling resistance. This means that the tyre is able to run more easily and remain cool, resulting in reduced fuel consumption.
Further Benefits
Innovative tread pattern means a higher resistance against aquaplaning
Awarded an 'A' for 'Wet Grip' by the EU Tyre Label
Resistant to wear equalling longer tyre life
Buy ContiSportContact 5 tyres online from The Malvern Tyres Group at competitive prices today. Simply purchase online and arrange a fitting at your nearest Malvern Tyres Group branch at a time to suit you.
Alternatively, you can browse other Continental tyres we stock.
BACK TO ARTICLES