How to avoid an MOT Test failure
18th August 2014
An MOT test is a legal requirement in order for your vehicle to be driven on UK roads, many UK vehicles fail their MOT test due to easy-to-fix mistakes not being noticed by drivers. Carrying out a few simple checks on your vehicle before you take it to the test centre, could save you both time and money.
What should you check before an MOT test?
Tyres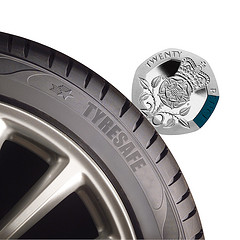 One of the most common reasons for an MOT test failure is the tyre tread depth being below the legal limit of 1.6mm. An easy way to check your tyre tread depth is with a 20p piece. Place a 20p in the grooves of your tread, if the outer edge of the 20p is visible when it is placed in your tyre it may be illegal.
Your tyres will also be checked for bulges, tears and cuts. Condition, security and tyre size/type are also checked. For more information on the tyre check carried out during your MOT read this handy testers manual.
If you suspect your tyres need replacing before your MOT visit your local Malvern Tyres Group for advice and of course new tyres.
Headlight and Indicators
Check that your vehicles headlights, rear lights, hazard lights and indicators are in the correct working order as a faulty light can result in an MOT failure.
Brake Lights
Broken brake lights are extremely dangerous and will also cause your car to fail its MOT. Ask a friend, colleague, family member etc to stand behind your vehicle whilst you press the brake to check if your lights work (this also includes any brake light strips).
Number Plate
Between Aug 2012 and Aug 2013 nearly 1,400 MOT failures were down to incorrect spacing and anomalies with registration plates (data from whatcar.com). Make sure your number plate is displaying the correct font, and that the spacing of the letters comply with the DVLA's guidelines.
Seats and Seatbelts
When sitting in your drivers seat, ensure it adjusts forwards and backwards. Pull all your vehicles seat belts to check they react as they are designed to in the event of sudden braking.
Windscreen
Any damage on your windscreen larger than 40mm will cause you an MOT failure. BEWARE it is only 10mm of damage within the ?swept? area of the windscreen in front of the driver that will also a fail.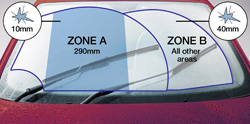 Windscreen Wipers
Do your windscreen wipers keep your windscreen clean? If the answer is no, this can be an MOT test fail. Also check for any tears or holes in the wiper rubber which can also result in a fail.
Screenwash
Before you take your vehicle to your chosen MOT test centre, top up the washer bottle. It may sound silly, but something as simple as an empty bottle may cause your vehicle to fail.
Horn
The easiest check of them all - give your horn a short blast. If it doesn't sound, your test centres will have to repair or replace it.
Fuel and Engine Oil
Many drivers may not know this, but not having enough fuel or engine oil for the MOT tester to carry out the MOT test emission test can mean your vehicles gets turned away from your chosen test centre.
A quick 10 minute check of your vehicle before taking it to the MOT test centre can be the difference between a pass and a fail. To find out more visit your local Malvern Tyres Group MOT Test Centre.
BACK TO ARTICLES